LabGuy's World: Most Frequently Asked Question #3
---
Q. I know how to hook up my VTR, but the connectors are weird. How do I connect my modern BNC and or RCA cables to these?
---
A. Simple. Adapter plugs. [Radio Shack] sells a nice assortment of them. Another source is [Comprehensive Video Group]. Search for "video adapter plugs" on the internet for other sources. First though, let's look at some common video equipment connectors. Observe the image below: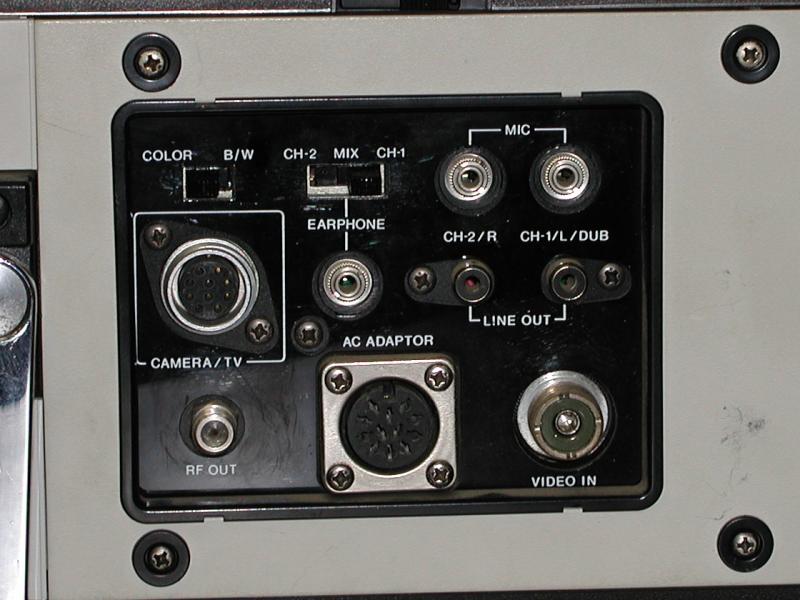 This photo has just about one of each kind of connector you are likely to encounter on VTRs from the 60s and 70s. (For the chronically curious, this is the jack panel on the [Sony VO-3800 Portable U-matic VCR] from 1974. Portable VTRs are often times called Portapacks.)
The two jacks labeled, "MIC" and the one labeled, "EARPHONE", are 1/8" mini phone jacks. These take the plug commonly found on low cost microphones and earphones. Just below them are two jacks labeled, "LINE OUT". These are called RCA jacks and are the most common jack on consumer equipment today. The big jack in the lower right labeled, "VIDEO IN" is called a UHF jack. It goes by other names, like SO-239, but that is not important. The jack on the lower left labeled, "RF OUT" is called an F connector is used on cable converter boxes, TV sets and VCRs. This jack carries a radio signal just like you get from a TV transmitter, only far weaker. The multi pin jack to the left of the earphone jack is called an EIAJ 10 pin and is used most commonly to connect cameras to portable VTRs. If you have a PORTAPACK VTR or a VTR with a 10 pin camera connector, [CLICK HERE] for more information about these specialized connectors.
For audio connections, most of the time there is no problem. Standard RCA connector patch cords can be used. On older Sony decks, 1/8" mini phone jacks were commonly used for the audio connectors. You will need an RCA (female) to 1/8" (male) mini phone jack adapter. Put these adapters on one end of your standard RCA patch cords and you are good to go!
There are two types of video connectors commonly found on old VTRs. The UHF jack, also known as PL-239, and BNC jacks. [Radio Shack] carries a UHF (male) to BNC (female) adapter plug (RS# 278-121) and also a BNC (male) to RCA (female) adapter (RS# ???-???). For VTRs with BNC jacks, you only need the one adapter plug. For VTRs with the larger UHF style connectors, you will need both of the aforementioned adapters connected in unison. This is because Radio Shack does not carry and adapter to go directly from UHF to RCA directly. It is a bit pricey, but still less than ten dollars for the pair of adapters.
If you choose to use an RF connection, you will find that most RF outputs emerge from the VTR on an F connector, she same type used for cable TV. This can be connected up using a standard F to F cable like the kind included with a new VCR today. The second type of connector used for RF output, mostly on portable VTRs, was the 1/8" mini phone jack. You will need to obtain an F (female) to 1/8" mini phone plug (male) adapter.
---
ADAPTERS:
Shown here are a few examples of various video and audio jack adapters. Print this page to use as your shopping list at any well stocked electronic supply store. There is no penalty for getting creative and pairing adapter plugs together to obtain the combination you need.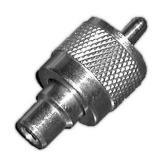 UHF Male (PL239) to RCA Female
To connect an old VTR to contemporary consumer video equipment, you will need this adapter. You can then use your conventional RCA to RCA patch cords to interconnect the old equipment with your contemporary gear. This jack and related cables are for VIDEO.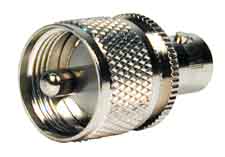 UHF Male to BNC Female
UHF connectors are the old style video connector of choice prior to the late 1970s. This adapter allows you to use the current professional BNC style cables to inter connect your video signals. If you can not locate the UHF Male to RCA Female adapter, you can couple this adapter with the next one to get the same result a little less elegantly. This jack and related cables are for VIDEO. (Radio Shack part# 278-121)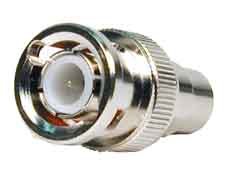 BNC Male to RCA Female
Adapts contemporary professional BNC jacks to RCA jacks for use with consumer equipment. Used with the previous adapter to mate old equipment to contemporary consumer gear. Radio Shack also carries this one. This jack and related cables are for VIDEO.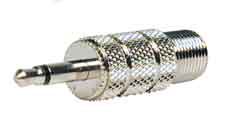 1/8 inch Mini Phone Male to F Female
This adapter is used specifically for RF output jacks as found on most reel to reel video portapacks and many decks as well. This allows you to play the video and audio through a conventional television receiver on an unused channel. Of course, the VTR you are using will need to have the (usually) optional RF adapter plugged into it. Use this adapter with an F to F cable, just like found on your TV and cable box. Connect the adapter end to the RF output of the VTR and the other end into your television or VCR's VHF input jack. This jack and related cables are for RF (Radio Frequency) SIGNALS, usually low band VHF channels 2-6 in the U.S.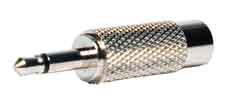 1/8 inch Mini Phone Male to RCA Female
Use this adapter to convert your RCA cables to the audio jacks as used on many early Sony Videocorders and most reel to reel portapack VTRs. This jack and related cables are for AUDIO.
---
[HOME].........[FAQ HOME]
---
Last updated: January 11, 2005