LabGuy's World: 1976 Akai CC-150S Two Tube Color Video Camera System
---
New addition! 001215
Updated! 050518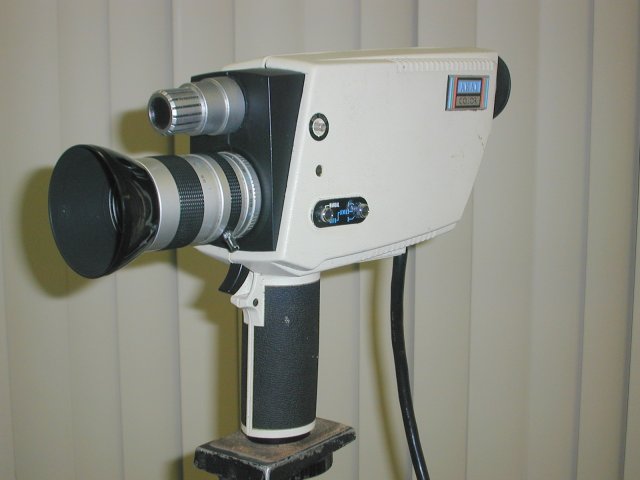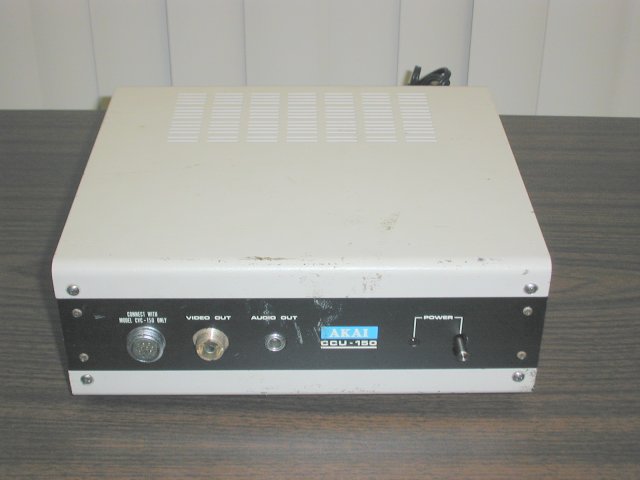 1976: Akai CCS-150 Color video camera system consists of the VC-150
Two Tube Color Video Camera head and CCU-150 Camera Control Unit
.
This camera used two vidicon tubes. One, in the normal horizontal orientation, senses green light. The second tube was oriented at 90 degrees, descending into the hand grip, and was used as the rred/blue color dissector. Light, from the scene, was separated and fed to the to tubes through a beam splitter prism. The green tube views the scene directly and the red/blue color dissector tube views the scene through a vertically striped filter. The red and blue video components are separated by bandpass filters and then matrixed with the green signal prior to encoding to composite video when used with the CC-150 CCU.
I have two camera heads and one CCU in my collection now. I fired up the CCU/Camera pair that I just got and the results were pretty grim. But (good news!), both units did operate (sort of). I was worried because a previous owner had modified the CCU, adding sync and subcarrier input jacks (not shown) to the side of the unit. The camera head was about as light sensitive as Stevie Wonder and in dire need of registration and other complex allignments! But, it was making a color picture that may look OK after an allignment (and I get a 500 watt quartz movie light!).
.
UPDATE! May 18, 2005 - I just obtained a ton of Akai literature and found a excellent description of this camera sytem in an old advertising flyer.
.
Read the [1976 ADVERTISING FLYER#1] & [1976 ADVERTISING FLYER#2], No doubt there will be data coming soon.
.
NEEDED: Service and or operators' manuals.
---
Click here to:
1978: RCA CC-002 Single Tube Color Camera
Return to the Index of Color Video Cameras
Return to the Exhibit Index
Return to The Top of LabGuy's World
---
[HOME]......[VIDEO RECORDERS MUSEUM]
---
Last updated: May 18, 2005