LabGuy's World: Most Frequently Asked Question #7
---
Q. Where can I find a power cord for my old VTR?
---
A. Power cords are frequently missing from obsolete equipment and can be virtually impossible to find. One solution is to make what I call the "Man Killer" cheater cord. Build this cord ONLY as a last resort. It is highly unsafe and should only be used when a proper replacement can not be obtained. See: Safety Disclaimer, below.
.
The name will become clear as we examine this "one size fits all" solution. The man killer is made from an old EIA style computer power cord. Cut the female connector off of the end. Strip the outer cover back approximately 12" or so, exposing the black, white and green inner wires. Attach a large, rubber covered, alligator clip directly to the green lead. On the black and white wires, splice in series with each a pair of inline fuse holders. On the other end of the fuse holders, attach two more insulated alligator clips. You have the "Man Killer"* in your hands at this point.
.
The colorful name comes from the fact that this cord can kill you. You have been warned!!! The fuses offer a first layer of protection against inadvertently shorting the business ends together. The ground (green wire) has no fuse, since we want the machine grounded at all times.
.
To use the man killer cord: With the cord unplugged, install two 4 or 5 Amp, quick blow, fuses. You may use larger fuses if the particular VTR requires them. Do not exceed 10 Amps. Most household circuits are set for 20 Amps max. If your VTR is popping 10 Amp fuses, then it has other problems or it is too much load for a household circuit to carry safely.
.
Most old VTR power receptacles have three pins in the power receptacle. The center pin is always ground, attach the green lead to this pin FIRST. The other two pins are where you connect the fused leads of the man killer. 99% of the time, it won't matter which way you connect them. When using the man killer cord, it is a good idea to tie it securely around the leg of a table or another sturdy anchor to avoid pulling it off the receptacle accidentally.
.
VTRs ONLY! DO NOT USE THIS CORD FOR TELEVISION SETS! EVER!!!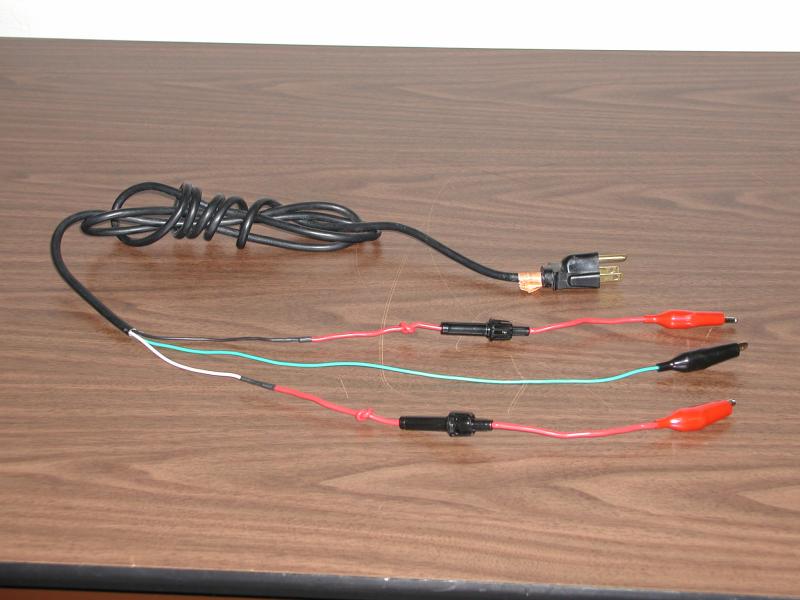 The Man Killer Cheater Cord
.
ALWAYS PLUG THE CORD IN LAST! ALWAYS UNPLUG IT AGAIN WHEN NOT IN USE.
.
Note that the fuse holder leads are insulated with short bits of heat shrink tubing where they are spliced to the black and white leads of the power cord. Observe a knot tied in each red wire just to the left of the fuse holders in the photo. These knots prevent the inside contact from protruding from the plastic cover when the fuse holders are opened. Of course, don't open the fuse holders if the cord is plugged in!
It is highly recommended, that if you have young children in the vicinity, then DO NOT construct this cord. It is ALWAYS better to be safe than sorry. This is a handy tool for a disciplined service tech or for the very very careful. It is not a toy.
.
SAFETY DISCLAIMER: IF YOU DECIDE TO MAKE AND USE THIS TYPE OF POWER CORD, IT IS YOUR RESPONSIBILITY TO USE IT IN A SAFE MANNER. I TAKE ABSOLUTELY NO RESPONSIBILITY FOR YOUR ABILITY TO USE THIS CORD, OR FOR ANY DAMAGE INCURRED BY THE USE OF THIS CORD. I ALSO CAN IN NO WAY GUARANTEE THAT THIS ITEM WILL MEET YOUR NEEDS. ALWAYS THINK SAFETY!
.
* Political correctness disclaimer: I call this item a "MAN" killer, because we all know that the ladies are smart enough to not even try this in the first place!!!
RECOMENDED PARTS LIST:
Qty: Part # * Description:
1 61-2859 6 ft. EIA Power Cord (1 each)
2 270-1281 In-Line Fuse Holder (1 per pack)
1 270-356 Alligator Clips (4 per pack)
1 270-1010 4 Amp Fuse (4 per pack)
* Radio Shack Part numbers or use equivelent.
---
[HOME].........[FAQ HOME]
---
Last updated: January 11, 2005