LabGuy's World: A fully restored 1948 Dumont Image Orthicon Camera!
---
(Click on the small pictures to enlarge them. Use your browser's back button to return. The following text has been creatively edited from the numerous emails between Jorge Mochkovsky and myself.)
The 1948 Dumont TC-124C!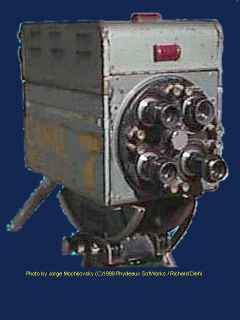 AND IT WORKS!
Rich: I received email from my newest friend, Jorge Mochkovsky, who lives in Argentina, recently. In this particular email, was this excellent surprise. Jorge's newest friend, Carlos Gomez, had located this spiffy old Image Orthicon TV Studio Camera in a Buenos Aires automobile junk yard in October of 1994. Carlos wheeled and dealed and took this beautiful piece of technological history home for a charm! (A mere $400 US)

---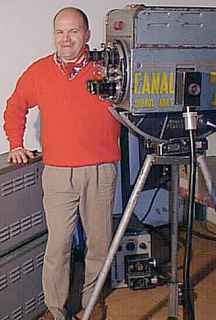 Lucky Carlos poses with his antique pride and joy.
Jorge: Carlos Gomez is a new friend of mine that has a Dumont camera from 1948. I met Carlos in my quest to find and buy an early b/w TV broadcasting camera. (He won't sell it!...) I'm still looking for an early RCA TK-10, 11, 30 or 31.
Rich: Aren't we all!

---
The Dumont TC-124C with covers open.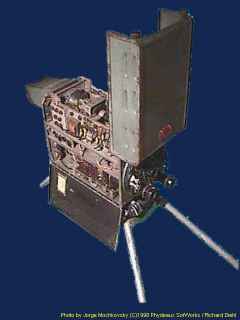 Jorge: The camera had a Houston Fearless base and the tripod was missing, so Carlos built the one seen here. This particular camera served many years of duty at TV station: "LS82 TV Canal 7 - Buenos Aires", starting in 1951.
Rich: (For all the kids out there, that is what we scientists refer to as: "A long long time ago!")

---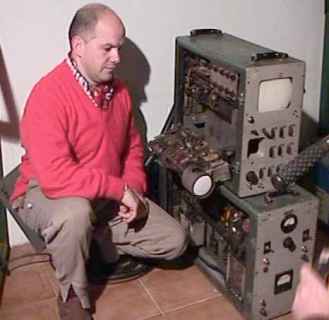 Inspecting the interior of the CCU (Camera Control Unit).
Jorge: Built by the Dumont company for Federal Communications (of Brazil) in 1948, their name is still visible on the I.D.. tags.

---
Dumont CCU (Camera Control Unit) and power supply units.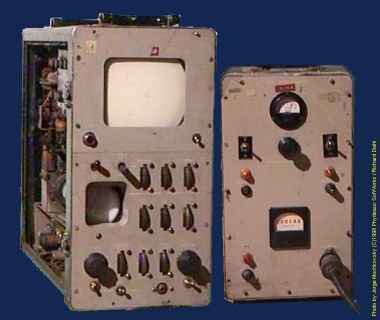 Jorge: You also asked whether the camera was working in one of the pictures. Yes! The viewfinder was free running, that day. There was a problem with one of the power supplies, so we couldn't have the camera working (now it's OK!).

---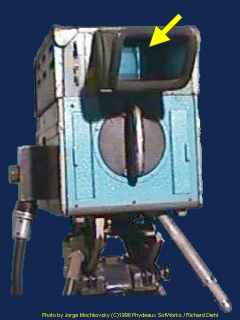 You can actually see that the viewfinder is running in this picture!
Jorge: The camera works fine. Carlos restored the electronics, but left the housing just as it was in the final days at the TV station.

Rich: Do you boys have schematics of the old Dumont? We could drag the internet back 20 years with this one!

Jorge: Yes! Carlos has the manual, and my friend Tom Hofmann (who shot with the Epson camera), promised to scan the manual and reprint it just like you'll do with the (Panasonic NV-3082) schematics that I sent to you.

Rich: Have you considered connecting the Dumont to your Panasonic NV-3082 just for the shear novelty of it?

Jorge: No! But it's a good idea! We can then play the tape to a Zenith 17" round CRT vintage 1950!

Rich: Perfect! I'll make the pop corn.....
---
Would you nice folks, visiting my web pages from all over our beautiful planet, want to see another Antique Dumont Video Camera? Hmmmmm?
.
Then click here to see: Chuck Pharis's Dumont model TC-124A.
.
---
[HOME]......[EXTINCT DOCUMENTATION]
---
Last updated: January 09, 2005