LabGuy's World: Remembering

(International Video Corporation)
---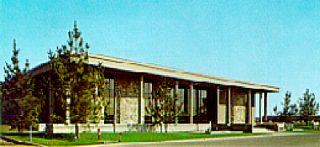 IVC's world headquarters building used to be at: 675 Almanor Avenue Sunnyvale, California. International Video Corporation flourished from about 1967 well into the late 1980s. IVC manufactured dozens of models of VTR's, cameras, film chains, switchers and other video equipment for the low end broadcast and high end industrial markets. They sold equipment into virtually every country in the world. I personally remember seeing the IVC color cameras at TV station KRCR, channel 7 in Redding, California, during a high school class field trip. (Click on the small pictures to enlarge them. Use your browser's back button to return.) .

---
IVC 1-11: The broadcast VTR that never was!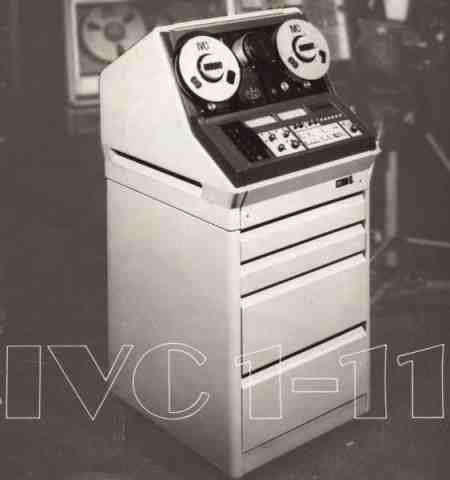 The IVC 1-11, 1 inch Broadcast VTR is designed for the user looking for the performance of 1" VTRs without excessive cost and complexity. (Approximately $36,000) Compact, flexible and simple to operate, the IVC 1-11 employed a new signal system derived from the IVC-9000 mastering VTR, Dolby (TM) Video processing and a dedicated integral digital timebase corrector. The result is full bandwidth low noise video for a multigeneration performance comparable with any broadcast VTR. The IVC 1-11 is available, with a variety of packaging options including space saving transport and electronics assemblies separable by up to 10 feet (3 meters).
---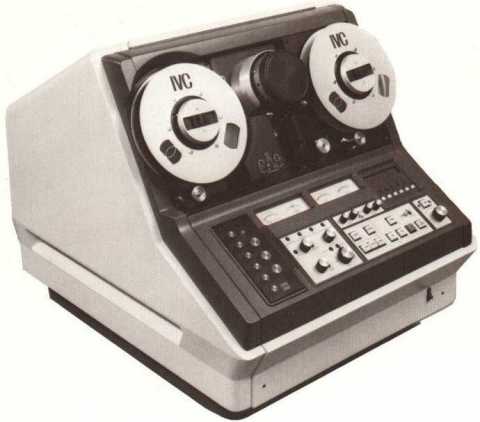 Easily integrated with auto editing systems, the IVC 1-11 provides high speed tape shuttle for fast access to any recorded tape segment. All controls for monitoring and optimization are on the front control panel with clear meter and/or LED readouts. A microprocessor based timer with programmable memory makes scene material location and retrieval fast and accurate. A full range of connectors, audio on XLR, video on BNC, is easily accessible on the 1-11's rear panel. Along with a remote foot switch brake release, for use with any 1-11 configuration.
---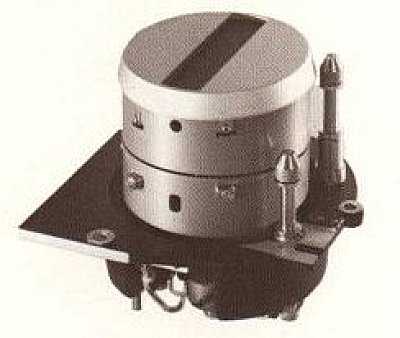 The heart of the IVC 1-11 is the new five head scanner. Full field recording and frame accurate video insert and assemble edits are accomplished with the aid of a new field replaceable head wheel containing an integral flying erase head plus separate sync and video heads. The entire video signal is preserved with no dropout at the video head crossover point. The video head wheel is field replaceable and has a warranted life of 1000 hours, using standard high coercivity cobalt doped ferric oxide tape. All scanner coupling is inductive using precision ground rotary transformers.

---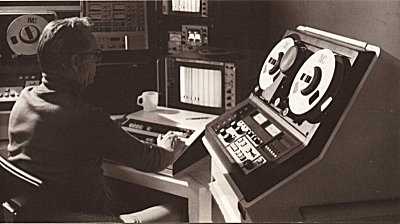 Video Multigeneration: Your edited masters will look great! In the 1-11, a combination of hot pressed ferrite heads, an integral digital T.B. C. a full bandwidth high band recording system - derived from the IVC-9000 mastering VTR - gives multigeneration performance you can be proud of, a capability matching other broadcast oriented formats at an unmatched price.

---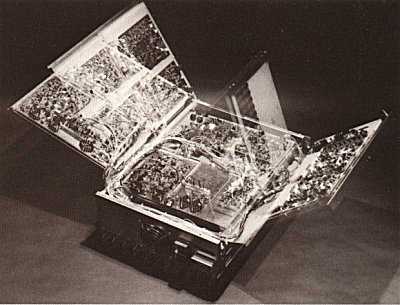 Accessibility and ease of maintenance are carefully engineered features of the IVC 1-11. The use of large PCB's mounted on gull wing panels allows the grouping of major system functions on each board simplifying fault isolation and repair on site. All PCB's are plug-in with access to both top and bottom. The two major components of the 1-11 are connected by a sheathed cable that carries all servo, video and command signals with one power switch activating both units.
(Information edited from a proof copy of the sales brochure dated: 4/80)

---
This machine, sadly, never went into production. Only two prototype machines were built. The IVC 1-11 is a classic case of a product being to late for its market place. By the time this machine was ready for production, in 1980, the 1 inch C broadcast format had been adopted by the television industry. This truly was the last video recorder developed by IVC. I'd like to thank William Meyer for all of the excellent IVC historical information that he has provided for us here.
---
IVC VCR-100: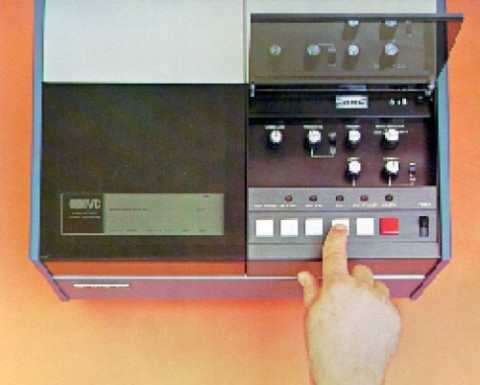 IVC VCR-100, Video Cartridge Recorder.
The VCR-100 was a video cartridge recorder and conformed to the same physical recording format as all of IVC's 1 inch reel to reel machines. A tape cartridge, unlike a cassette, does not contain an integral take up reel. Instead, the machine contains an internal, fixed take up reel. When a roll of tape weighs 6 to 8 pounds, the design engineer had to work over time to trim away the fat. Removing the take up reel from the cassette housing, and saving a pound or two, was totally logical. (More about this in a moment.)
The 8" reel prior to installation in the cartridge.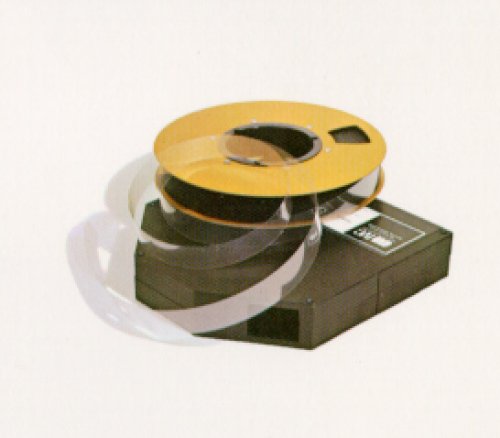 The VCR-100 New Scotch 461 tape came with clear leader tape for use in this machine. The leader functioned as a component of the machine's auto threading system. The leader was removed when the tape was used on an open reel machine.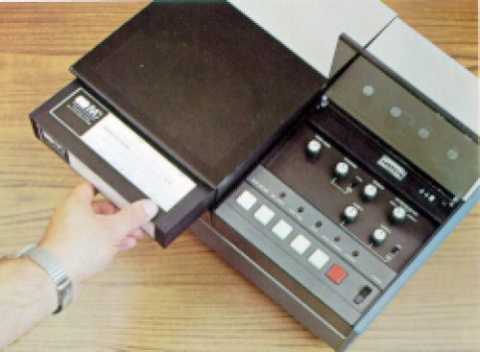 Loading the cartridge into the IVC 100.
At startup, the feed reel, inside the cartridge, would spin very quickly. In fact, it would spin so fast that it would literally launch the leader tape from the spool. The leader was then guided, by the walls inside the cartridge, to a special guide track called the "C channel". The C channel guided the leader tape around the intended tape path and delivered it to the internal take up spool, which was also spinning. The stiff plastic leader tape would remain in the C channel, but the much more flexible recording tape, would be pulled out of the C channel to drop neatly onto the guides and heads. This ingenious process, like most ingenious processes, works great. (...on paper!)
.
The VCR-100 had it's head drum mounted upside down. This allowed gravity to assist in the threading of the tape. This tid-bit of info was provided by William Meyer, who used to work at IVC.
.
If this sounds a bit like a Rube Goldberg mechanism to you, you're right! Panasonic's Omnivision format and CBS's EVR both worked this way, too. All of these formats had fixed internal take up spools. If anything went wrong and the tape or film jammed, you could not remove the cartridge! It required disassembling the machine, and attempting to rethread the tape onto the guides. Failing that, you spent the next hour or two pulling the tape out by hand and wrapping back it onto the feed reel!
.

---
IVC 500 Series VTR's: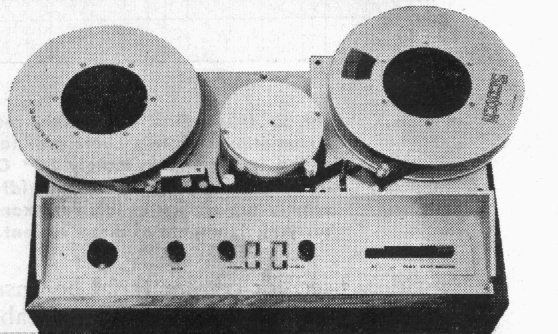 IVC-500, 1 inch, reel to reel, colour VTR.
---
IVC 700 Series VTR's: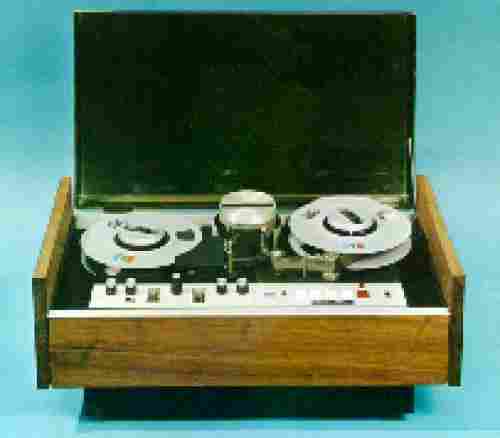 IVC-700, 1 inch, reel to reel, colour VTR.
New! IVC-711, close up look at this 1 inch, reel to reel, colour VTR.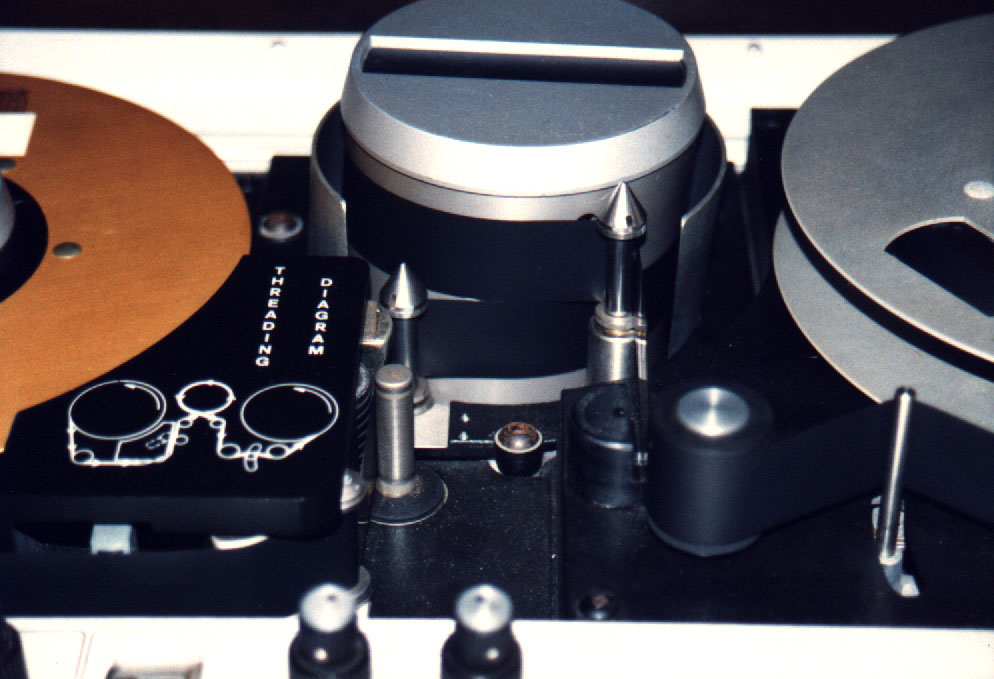 New!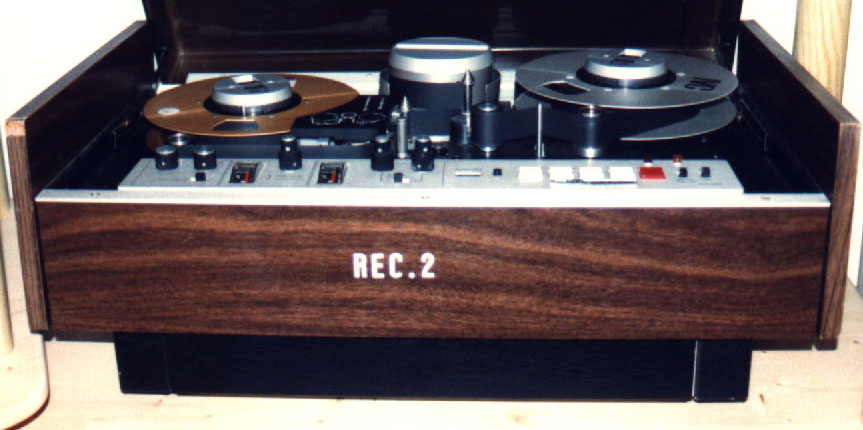 IVC-711, a better view.
More info and pictures are needed!!! Help?

---
IVC-800 Series VTR's: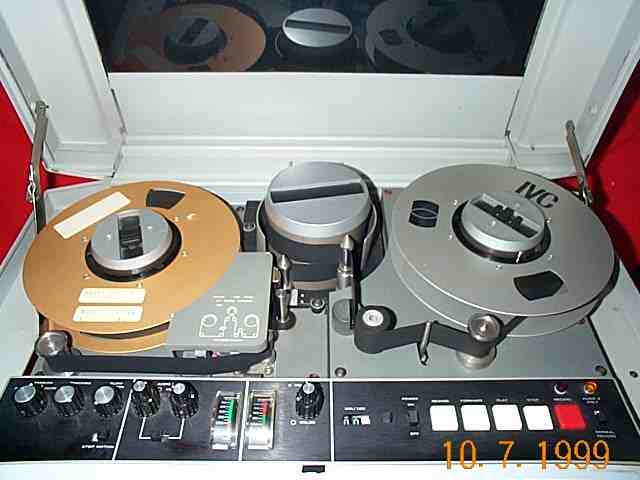 IVC-800A, 1 inch, reel to reel, colour VTR.
New! IVC-801, Internal view!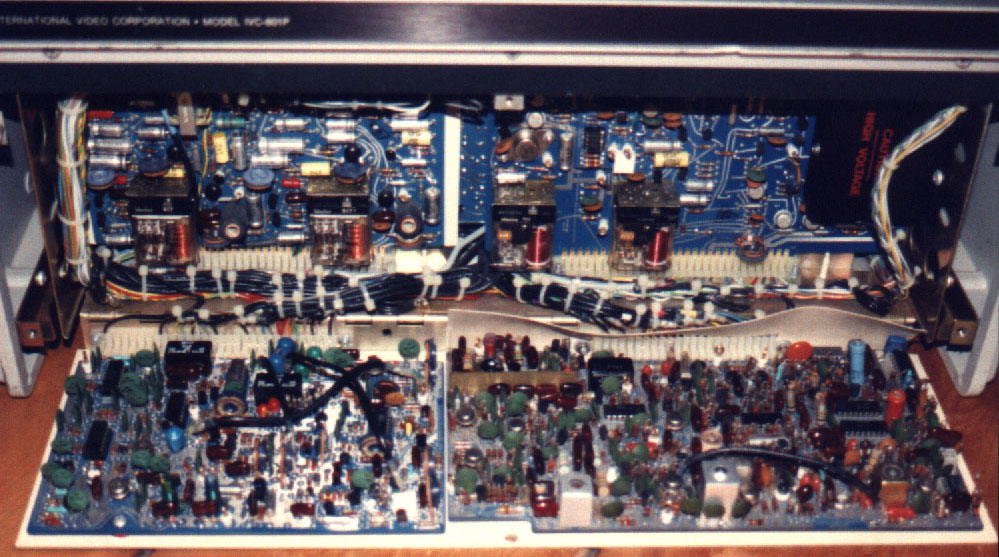 New!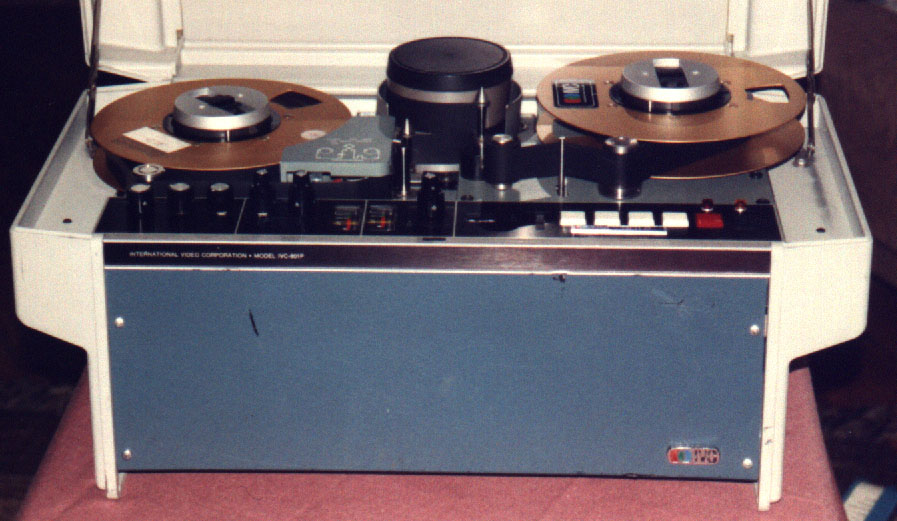 IVC-801, 1 inch, reel to reel, colour editing VTR.
IVC-860, 1 inch, reel to reel, colour editing VTR.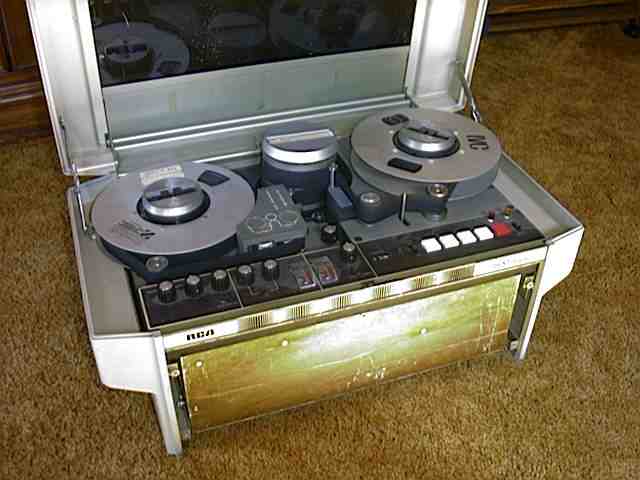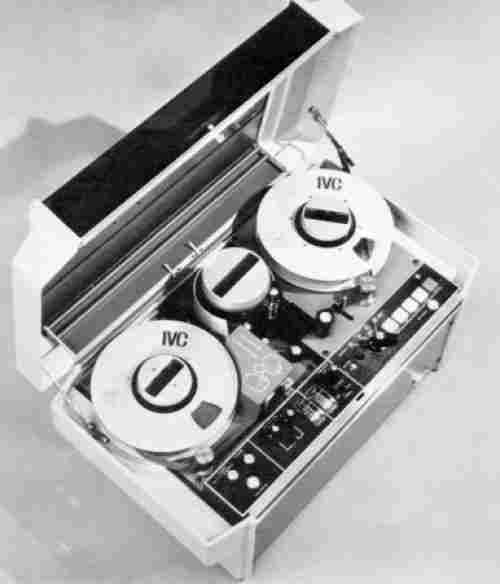 IVC-871, 1 inch, reel to reel, colour editing VTR.
More info and pictures are needed!!! Help?

---
IVC-961P:
1.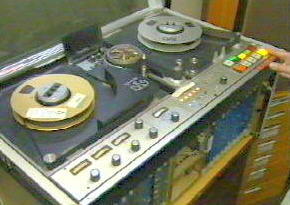 2.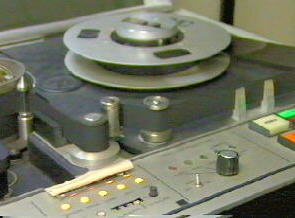 3.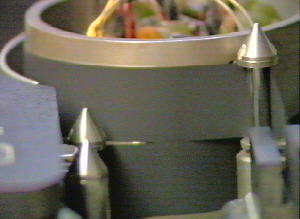 4.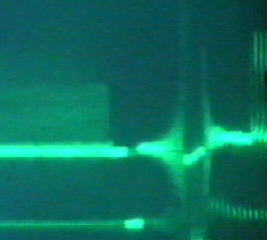 Note 2.
For more info about this machine, Click here to visit John Sangster's IVC-961P page.
---
IVC Time base correctors: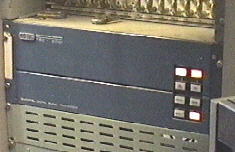 TBC-2001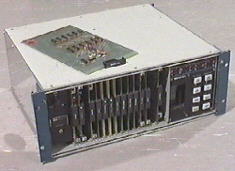 ---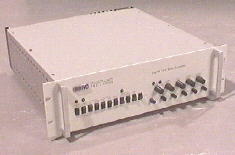 TBC-2002
---
IVC Video Heads: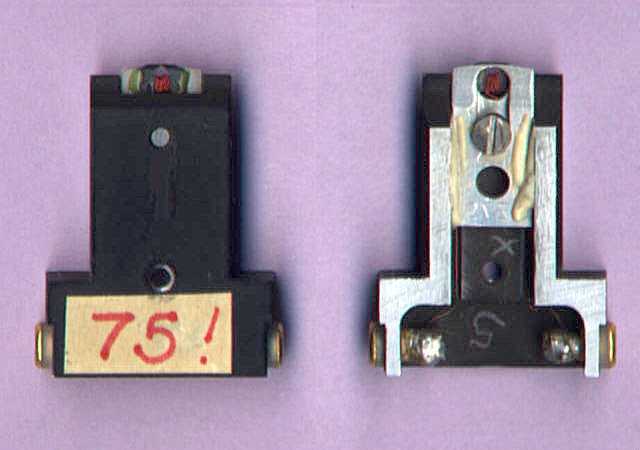 This is an example of the video head used in the model(s) 700, 800 and 900s. If you look very closely, you can easily see the ferrite (black) material that formed the actual recording surface. The 7 or 8 turns of microscopic copper wire, which transform the ferrite into an electromagnet, are also visible in the picture. This fragile assembly is glued to an aluminum mount which is called the "boot".
---
IVC-9000: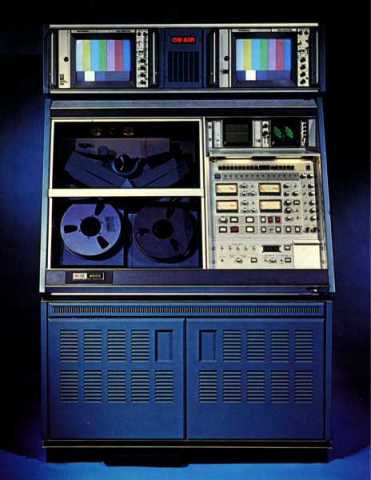 IVC-9000 - 2 inch Helical, Colour Editing VTR.
Notes 3. & 5
This machine was phenomenal! It worked in ALL world video standards. It had a whopping 8 Mhz direct (raw) bandwidth! The IVC-9000 used 2 inch video tape in a Segmented Helical Scan configuration. Video was direct recorded to tape.
---
Specifications:
Tape Width: 2 inch, Linear tape speed: 8.00 IPS, Scanner Speed: 9000 RPM, Relative tape speed: 1,500 IPS.
Design Team:
Barrett E. Guisinger, Donald E. Morgan, Bert H. Dann, Joseph Roizen, Nikola Vidovic and William Moore. Mr. Guisinger was the overall system designer, and also designed the signal system and time base corrector.

---

The IVC-9000 had one other interesting mode. It could record a 655 line picture at 24 frames per second. This is specifically for the film industry. The model number of this film frame rate machine was: IVC-9000M, the M standing for MOVIE or maybe "costs even MORE".
.
Does anyone have any more information about the IVC-9000, especially the 24 FPS mode IVC-9000M? If so, please send me an email.

---
Notes / Credits:
1. All material on this page (C)1998 Phydeaux SoftWorks / Richard Diehl.
2. VCR-100, IVC-700, IVC-871, IVC-961P & TBC's photos and information courtesy of John Sangster.
3. All IVC 1-11 photos and information provided by William Meyer.
4. Photo of the IVC-9000 provided by Wesley Orr.
5. Photo of the IVC-860 provided by Gary Duck.
6. Photo of the IVC-711 & IVC-801 provided by Michael Niermann.
---
[HOME]......[EXTINCT DOCUMENTATION]
---
Last updated: January 09, 2005