LabGuy's World: 1963 Ampex VR-1500 Two inch helical scan consumer VTR
---
New! 0070317
Just arrived, March 2007! The actual model number of this unit is VR-1560. The 60 portion of the number stands for 60 cycles. The VR-1550 was marketed in 50 cycle countries. This is quite likely the earliest VTR to be offered to the general public 1963. The VR-1500 could be purchased as part of an elaborate and huge entertainment center. This particular specimen is installed in a fiberglass travel case with four casket handles for easy transport by two average healthy people. There appears to be some cover panels missing. As can be seen in the first photo, there was some minor shipping damage. It looked worse upon first inspection, than it turned out to actually be. After reinstalling the boards and relays into there appropriate locations, it appears that the permanent damage is limited to the heavy duty support frame.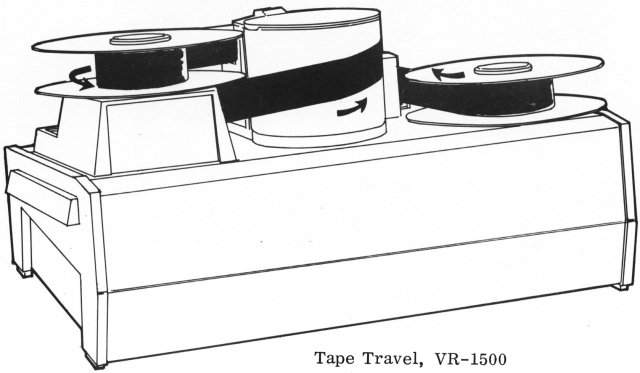 Tape travels from the lower feed reel, around the video head scanner drum, and up to the take up reel. In doing so, it forms a helix around the scanner. Video heads protrude around the circumference of the scanner drum, half way up. There are two heads and the tap wraps slightly more than 180 degrees around the scanner. In this way, at least one video head is in contact with tape at all times. The term helical scan is inaccurate. The actual scanning is performed on a level plane by the scanner disk and See track patterns diagram, below, to see the relationship of all the tracks.
The VR-1500 is a simplified version of the Ampex VR-660 professional VTR. The 660 had tighter servos, electronic editing (VR-660B) and even color operation (VR-660C). The VR-1500 uses two inch (5 cm) wide tape, configured in what is called the B-wind. B wind tape feeds from the right side of the reel, with the oxide side facing out. This is the opposite of A-wind tapes which feed from the left and have the oxide side facing in. Tape speed is 3.7 inches per second, providing up to 5 hours of recording time.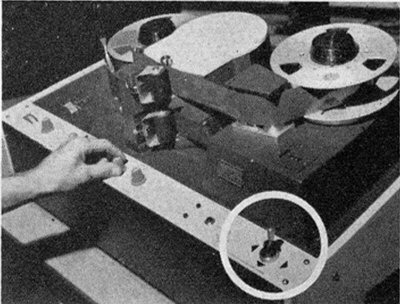 Operation of the 1500 and 660 VTRs is by means of the four position joystick control. This was a huge innovation which simplified operation of the VTR as well as the control circuitry inside the deck. The joystick switch was made by General Electric. The controls for recording are sophisticated as well. Audio and video tracks can be recorded simultaneously or separately, as well as re-recorded, after the fact. Click on the photo to read about the joystick controller.
Recently added (080629), a very rare VR-1500 remote control unit! Thank you, John Streets.
Check back occasionally to see how restoration of this machine goes. It looks fully restorable, appears to have intact video heads and is otherwise complete. I have all the service literature necessary to work on this deck.
SPECIFICATIONS
DIMENSIONS
Length: 29-7/8 inches (75.9 cm)
Depth: 17-38 inches (44.1 cm)
Height: 14-5/8 inches (37.1 cm)
Weight: 100 pounds (45 kg)
POWER REQUIREMENTS
a. 105 to 125 VAC, 60 Hz, 4 Amps peak
b. One 117 VAC utility outlet max output, 100 Watts
TAPE SPEED
3.7 in/S (9.4 cm/S)
RECORDING TIME
a. 40 minutes for a 6-1/2 inch reel (750 feet)
b. 90 minutes for an 8 inch reel (1650 feet)
c. 195 minutes (3 hrs 15 min.) for a 6-1/2 inch reel (3600 feet)
d. 300 minutes (5 hrs) for a 12-1/2 inch reel (5540 feet, 1 mile+)
FREQUENCY RESPONSE
+/-3 dB, 10 Hz to 3 Mhz
SIGNAL TO NOISE
40 dB or better on interchange tapes, p-p video to RMS noise
THREADING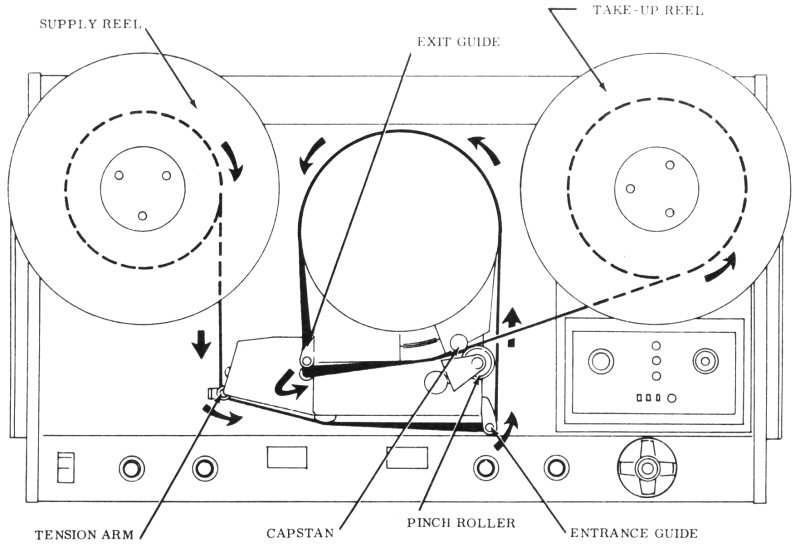 TRACK FORMAT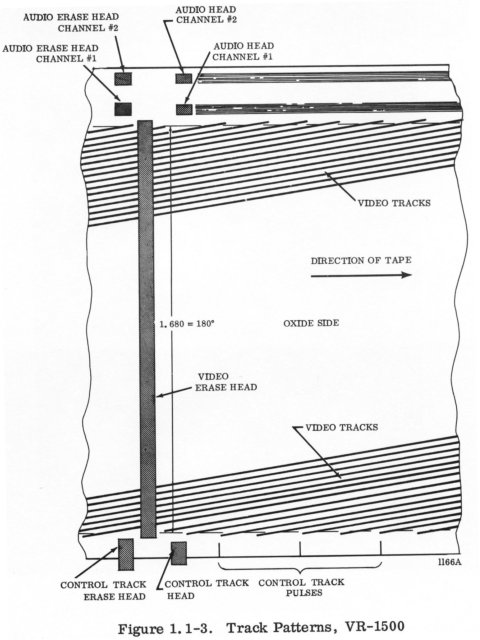 ---
[HOME]......[VIDEO RECORDERS MUSEUM]
---
Last updated: June 29, 2008